Taylor's Heating & Air is family owned and operated and have been providing Jacksonville, Gainesville, Lake City and Duval Florida with marine heating, cooling and ventilation repairs and installation services.
We have installed, replaced and repaired air conditioning systems on boats of all sizes from 20' boats to large mega-tankers, we have the skills and knowledge to complete any job! Along with cooling solutions for the marine world, we also complete refrigeration needs, ice makers, ventilation, kitchens and more! We can build you a system(s) from the ground-up for your boat, just give us a call at (904) 387-2106 for more information.
We have completed a variety of work and maintenance on many vessels including commercial boats such as: Jacks & Better ( A casino cruise), Shadow Marine boats including A, boats/vessels at JAXPort, Tug Boats, NOAA Albatross IV, many at North Florida Ship Yard and countless vessels along the seaboard!
Already know what you are looking for? Use the links below to jump to the section you are looking for.
Air Conditioning Installation/Replacement Systems | System Repairs & Maintenance | Refrigeration

Our 24/7 emergency services allow us to be here, when you need us the most! Give us a call today and tell us what we can do for you! or Use our Request Service form.
For Emergency Services In:
Southside - (904) 641-0669
Mandarin - Julington Creek - ( 904) 268-1876
The Beaches - (904) 241-0608
Orange Park - (904) 264-1854
All Other Areas - (904) 387-2106
---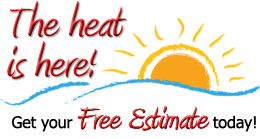 Free estimates on new A/C system installations and replacement systems for residential, commercial, industrial and marine only.
Financing is available, Call Us (904) 387-2106!