Specials, Tax Rebates & More
Taylor's Heating & Air takes part in energy programs and tax rebate incentives by the government and local utility companies such as JEA and Clay Electric.
Tax Rebates
There are many federal, brand name and utility company tax rebates that you can qualify for!
All rebates vary and change often, so give us a call today at (904) 387-2106 to discuss the most current rebates. You could be eligible to receive up to $1,450 in rebates and savings on a new HVAC system!
Preventative Maintenance Special
We are currently holding a special on our preventative maintenance service contracts for residential and business customers.
With our Preventative Maintenance Service Agreement, we will provide the following services twice a year. As a preventative maintenance customer you will also receive a 10% discount on all parts and no overtime rates. If your system needs to be replaced, you will also receive a credit per unit or system.
Check refrigerant charge
Check all electrical connections
Check contactors & capacitors
Check condenser fan blade
Lubricate all motors (if applicable)
Lubricate all bearing (if applicable)
Check thermostat operation & calibration
Check blower & pulley alignment
Check belts (if applicable)
Check air filter
Check condensate hose or pipe
Check fuses or breakers
Check fan operation
Clean evaporator drain line & pan
Rinse condenser coil; chemical clean (extra charge)
Chemically clean evaporator coil if needed (extra charge)
Evaluate all safety controls
Measure and record operating voltages and amperages
Measure and record all operation pressures and temperatures
Clean blower compartment
Check defrost operation and controls (if applicable)
Check for proper operation of burner and all gas/oil controls (if applicable)
Sometimes it will be necessary to remove the coil and/or blower to properly clean for best results. Their are separate fees associated with this. This agreement was designed to help maintain the life of your system and keep it performing at its optimum level! Give us a call at (904) 387-2106 for more information or to start your contract today!

Our 24/7 emergency services allow us to be here, when you need us the most! Give us a call today and tell us what we can do for you! or Use our Request Service form.
For Emergency Services In:
Southside - (904) 641-0669
Mandarin - Julington Creek - ( 904) 268-1876
The Beaches - (904) 241-0608
Orange Park - (904) 264-1854
All Other Areas - (904) 387-2106
---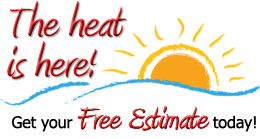 Free estimates on new A/C system installations and replacement systems for residential, commercial, industrial and marine only.
Financing is available, Call Us (904) 387-2106!