Commercial Refrigeration Services
Taylor's Heating & Air is family owned and operated and has been providing Jacksonville, Gainesville, Lake City and Duval Florida with residential heating, cooling and ventilation repairs and installation services for over 45 years!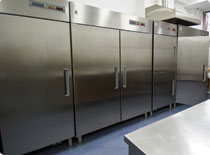 We install, service, repair and sell a full range of commercial refrigeration equipment for supermarkets, restaurants, food preparation facilities, convenient stores, hospitals and more.
Our services include a planned preventative maintenance program (contract) and repair services on most refrigeration equipment as well as installation of new commercial refrigeration equipment or replacement systems. Our service technicians are highly skilled in refrigeration and pay attention to the smallest details to make sure all your issues are resolved.
Taylor's Heating and Air can design and install commercial and industrial refrigeration systems for virtually anywhere including marine applications such as boats, submarines, mega tankers, cruise lines, refrigerated warehouses, restaurants, hospitals and more.
We can design and install refrigeration systems for specialized applications per client needs and specifications, give us a call at (904) 387-2106 for more information or a free installation quote.
Commercial Refrigeration Services
Our services include installations, replacement systems and repair & maintenance on the following and are not limited to:
Display cases
Refrigerated Food Tables
Gas Heating
Buffet Food Lines
Seafood Facilities
Restaurant Equipment
Water Filtration Systems
Gaskets
Lighting
Ice Cream Machines
Ice Machines & Makers
Soft drink machines
Since 1966, we have been specializing in commercial refrigeration repair and know our clients' success can often depend on how quick we are at addressing their equipment problem, especially during peak season. That's why we offer 24 hour, 7 day a week emergency services with a satisfaction guaranteed policy!
We also complete process cooling installation, repairs and maintenance on air conditioning systems and chill water systems. Process cooling is used to cool, extract heat, or maintain temperature during the manufacturing of manufactured goods, as well as equipment to cool manufacturing equipment.
Back to Commercial HVAC/R Overview

Our 24/7 emergency services allow us to be here, when you need us the most! Give us a call today and tell us what we can do for you! or Use our Request Service form.
For Emergency Services In:
Southside - (904) 641-0669
Mandarin - Julington Creek - ( 904) 268-1876
The Beaches - (904) 241-0608
Orange Park - (904) 264-1854
All Other Areas - (904) 387-2106
---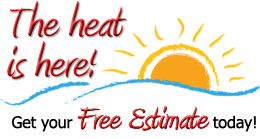 Free estimates on new A/C system installations and replacement systems for residential, commercial, industrial and marine only.
Financing is available, Call Us (904) 387-2106!