Taylors Heating and Air repairs and provides routine maintenance and repairs to most top brands of heating and air conditioning systems and units throughout greater Jacksonville, North Florida and Southern Georgia. Our professional technicians have hands-on training and experience working with all types of commercial and industrial heating and cooling units and provide the knowledge and quality service that you expect!
With our commercial preventative maintenance service agreement, we will perform routine check-ups to make sure any leaks or small problems get resolved quickly, especially for places of business like restaurants, hotels, hospitals and educational institutions. This can save your company hundreds to thousands of dollars each year. Give us a call today at (904) 387-2106 for more information on our Service Agreements.
If you already have a system in place, we will look it over and let you know if there needs to be any new parts or equipment installed to make it run smoother, quieter and make it long lasting.
We also complete process cooling installation, repairs and maintenance on air conditioning systems and chill water systems. Process cooling is used to cool, extract heat, or maintain temperature during the manufacturing of manufactured goods, as well as equipment to cool manufacturing equipment.

Our 24/7 emergency services allow us to be here, when you need us the most! Give us a call today and tell us what we can do for you! or Use our Request Service form.
For Emergency Services In:
Southside - (904) 641-0669
Mandarin - Julington Creek - ( 904) 268-1876
The Beaches - (904) 241-0608
Orange Park - (904) 264-1854
All Other Areas - (904) 387-2106
---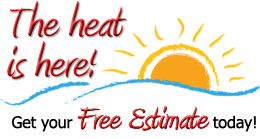 Free estimates on new A/C system installations and replacement systems for residential, commercial, industrial and marine only.
Financing is available, Call Us (904) 387-2106!