HVAC/R FAQs
Click a question below to view more information and feel free to give us a call at (904) 387-2106.
Yes, we would like you to be at home when we are giving you an estimate on repair or installation work. Children under the age of 18 years old are not allowed to be at home by themselves when we are servicing your equipment.
We cannot guarantee a specific time, we will try our best to be there within a certain amount of time. Our response time is based on customer call order and that is how our technicians route their day.
You should have you system checked at least once a year. We recommend your system be checked at least twice a year. It is important that your system is performing at its best on the hottest days in the summer and the coldest days in the winter. With our preventative maintenance agreement we check your system twice a year around winter and spring to make sure you won't be without air condition or heat during summer and winter.
Yes, we offer free estimates on new and replacement quotes, give us a call today at (904) 387-2106 for more information.
Yes, we are available 24 hours a day 7 days a week and on holidays. Call us at (904) 387-2106 for emergency HVAC requests.

Our 24/7 emergency services allow us to be here, when you need us the most! Give us a call today and tell us what we can do for you! or Use our Request Service form.
For Emergency Services In:
Southside - (904) 641-0669
Mandarin - Julington Creek - ( 904) 268-1876
The Beaches - (904) 241-0608
Orange Park - (904) 264-1854
All Other Areas - (904) 387-2106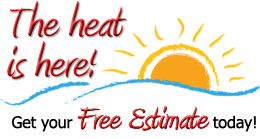 Free estimates on new A/C system installations and replacement systems for residential, commercial, industrial and marine only.
Financing is available, Call Us (904) 387-2106!