Marine Air Conditioning System Installations & Replacements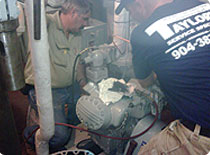 Our Marine Installation and Replacement Technicians are highly knowledgeable and skillful when assessing your boat's A/C System. Our techs generally keep in stock the most commonly replaced parts, so that you don't have to wait to get your system fixed. If we don't have the part, we will order it and as soon as we receive it we will come and replace it. Before any work begins, we will provide you with a custom quote or estimate and you can tell us when to start! Give us a call today at (904) 387-2106.

Taylor's Heating & Air uses Marine Air products and will complete service, repairs and preventative maintenance on most brands and equipment. Taylor's Heating & Air is an authorized MarineAir dealer.
Give us a call today at (904) 387-2106 for more information
We may be located in Jacksonville Florida but that doesn't stop us from serving you, regardless of your location. We service commercial and leisure boats all along the Eastern Seaboard and along the Gulf of Mexico in Florida. We will go to a ship's next port of call to complete repair work or maintenance to keep them on schedule as much as possible.
Our professional work is guaranteed through our expertise and the top quality materials we use. We take great pride in our reputation for always working and leaving all workplace neat and clean.
Just like your homes' A/C system, your watercraft's air conditioning unit must be regularly maintained to prolong it's life and achieve the best results.
Taylor's Heating & Air is dedicated to serving all of your preventative maintenance and repairs. Give us a call today at (904) 387-2106 for more information about our Marine Preventative Maintenance Service Agreement.

Our 24/7 emergency services allow us to be here, when you need us the most! Give us a call today and tell us what we can do for you! or Use our Request Service form.
For Emergency Services In:
Southside - (904) 641-0669
Mandarin - Julington Creek - ( 904) 268-1876
The Beaches - (904) 241-0608
Orange Park - (904) 264-1854
All Other Areas - (904) 387-2106
---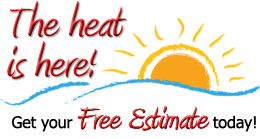 Free estimates on new A/C system installations and replacement systems for residential, commercial, industrial and marine only.
Financing is available, Call Us (904) 387-2106!