New Air Conditioning System Installations
If you're building a new house, give us a call and let us help you design your heating, air and ventilation system! Whether you have a plan & spec or build & design, give us a copy of your plans or shell and we can design a system that best suits your house, family, location and needs!
We can design your homes' whole system using the blueprint or shell. Once we make the plans for your system, you can take them to the building permit office in your county for approval. Once they are approved we will complete the installation of your new system!
We have a full HVAC facility equipped with a steel facility where we can weld and fabricate, complete any type of steel work and duct work as well as work with stainless steel.
Taylor's Heating & Air will be there from the beginning of your new home, designing the ideal system for your comfort needs. From the location of registers to the equipment selection, we will work together to achieve the best comfort and indoor air quality possible and provide your family with long-lasting comfort. Whatever system you choose, you can rely on us to give you premium products and the best brands in the industry at an affordable price.
At Taylor's Heating & Air we can help you achieve all your Green Living goals. From Energy Recovery Units to Super High Efficiency HVAC Systems and Programmable Thermostats. We can help you Go Green with many energy saving ideas and products. Let us know if you are interested in going green.
We have several terms of financing to suite any budget with approved credit. Click here to learn more!
Our Residential Installation Specialists will come to your home to thoroughly inspect and examine your current system and offer a quote for a replacement system. All at no cost or obligation to you.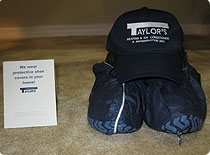 Our professional work is guaranteed through our expertise and the top quality materials we use. We take great pride in our reputation for always working and leaving all workplace neat and clean.
We wear protective booties in your house!
We are fully licensed and insured!
Our license number is RA002791.

Our 24/7 emergency services allow us to be here, when you need us the most! Give us a call today and tell us what we can do for you! or Use our Request Service form.
For Emergency Services In:
Southside - (904) 641-0669
Mandarin - Julington Creek - ( 904) 268-1876
The Beaches - (904) 241-0608
Orange Park - (904) 264-1854
All Other Areas - (904) 387-2106
---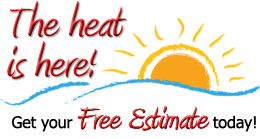 Free estimates on new A/C system installations and replacement systems for residential, commercial, industrial and marine only.
Financing is available, Call Us (904) 387-2106!